How to Use Gmail's SMTP Settings in EasyMail7 to Send Emails
---
Like Yahoo, Gmail allows you to send emails through their SMTP server. Because of the Gmail's sending limitation to 100 emails per day, you can use the Gmail's SMTP server if you have a small list of email subscribers or if you want to test how EasyMail7 is sending emails through the 3rd party server.
Follow the steps below to connect EasyMail7 with your Gmail email account.
Step 1. Allow Access to Your Gmail Email Account.
Before you can start sending email, there is one important thing you have to do for successful integration of the Gmail's SMTP server with EasyMail7.
Gmail is protecting your email account from unauthorized access and is not allowing other applications to connect to it.
So, in order EasyMail7 can use your Gmail email account for sending emails, you need to turn the access to On.
To do this, login to your Gmail email account in the browser.
Go to the Settings.

Go to "Accounts and Import" and click "Other Google Account Settings".

Click "Signing in to Google".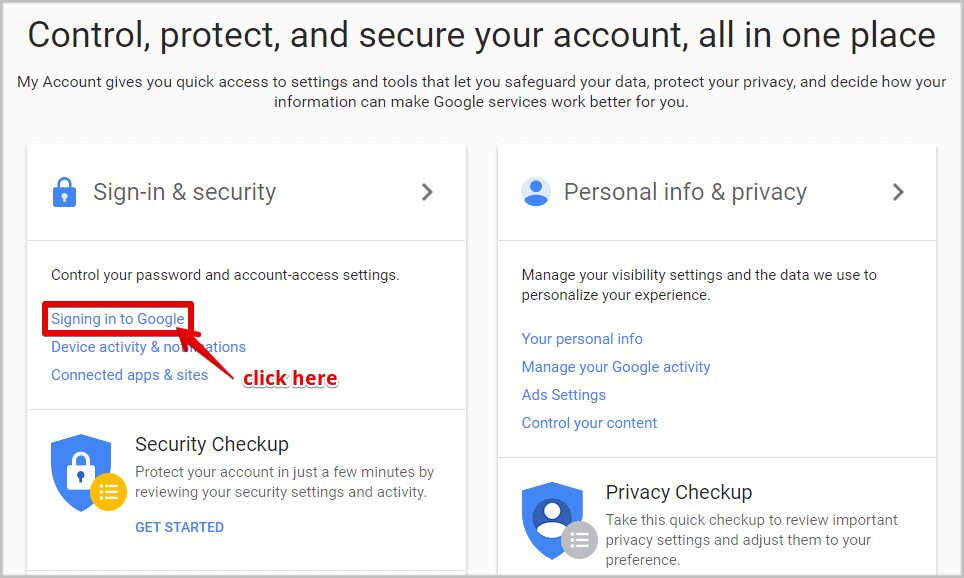 Turn the "2-Step Verification" to OFF.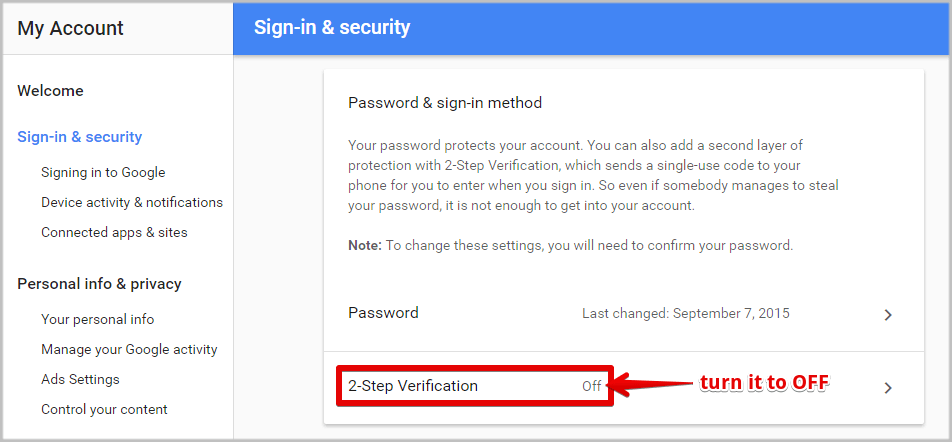 Scroll the page down and turn the "Allow less secure apps:" option to ON.
That's all with the settings in your Gmail account.
Now you can go to the Step 2 and connect EasyMail7 with the Gmail SMTP server.
Step 2. Configure EasyMail7 to Use the Gmail's SMTP.
Start EasyMail7 and go to Settings -> Email Accounts.
Click "Add New".
Enter the account name and your "From" name.
Enter your Gmail email address as the "From" email address, "Bounce (return)" email address and "Reply" email address under the General tab.
Set the limitation 100 emails per day and 1 SMTP connection to comply with the Gmail's sending restrictions.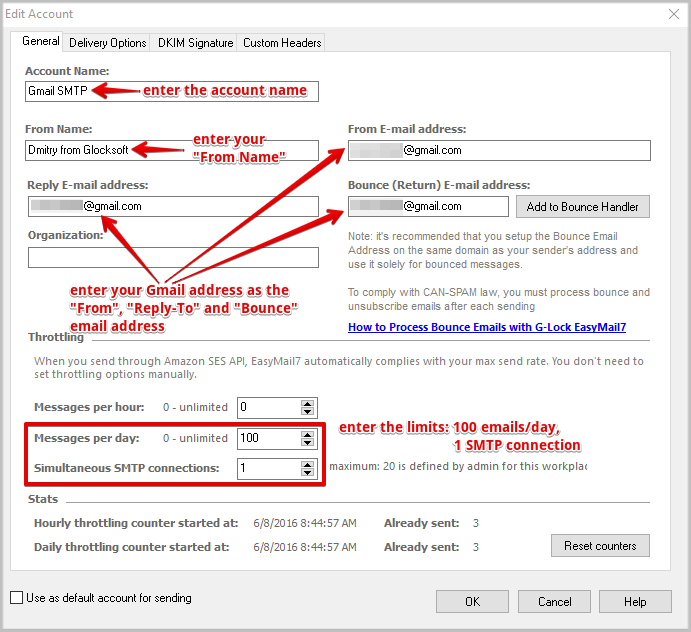 Then click on the "Delivery Options" tab.
Choose the "Send via SMTP Server" delivery mode and then choose Gmail from the list of pre-defined SMTP.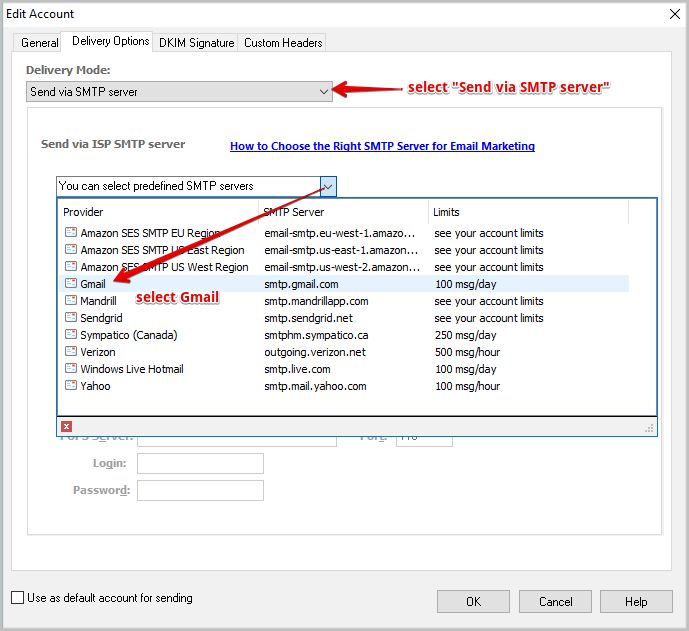 EasyMail7 will fill in the SMTP server (smtp.gmail.com), port (587), and security protocol (STARTTLS).
Now check the "My server requires authentication" option and enter your Gmail account login username (your full Gmail email address) and password.
Click "Test" to test the SMTP settings.
If you receive a test email from EasyMail7, everything is good and you are done. If not, double check if your settings are correct.
Click OK to save the account settings in EasyMail7.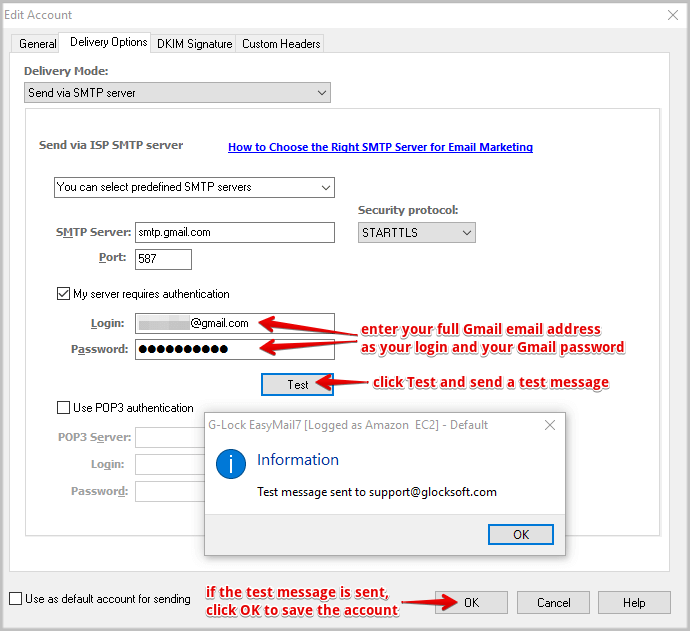 Step 3. Configure Bounce Handling in EasyMail7.
There is one more important thing you need to do — configure bounce handling to suppress bounced and complaining users from your mailing list and maintain a good sender reputation.
Follow these steps:
Return to the main EasyMail7 window.
Click on "Bounce Handler" at the left pane.
Create an account in the Bounce Handler with the following settings:
Account Type: IMAP
Server: imap.gmail.com
Port: 143
Security protocol: Default (no SSL)
Login: your Gmail email address
Password: password for your Gmail email account
Click "Retrieve" and wait for a while.
Then click on three dots in the "IMAP Folder" menu and select the Gmail folder from which the system will retrieve bounced emails. Usually, bounces come to the Inbox.
Also, set other actions and options that will be applied to bounced emails and click OK to save the account.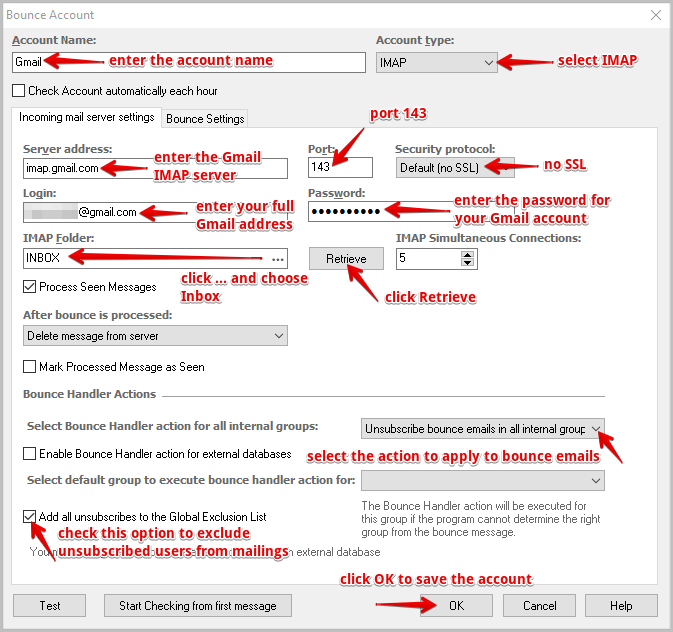 Now you can manually start the account check in the Bounce Handler after each broadcast to get your bounced emails handled and deleted/unsubscribed in your contact groups. Or, you can then go to the bounced account settings and check the option to automatically check your account and process bounces every hour.
Here you can read more about bounce handling in EasyMail7