G-Lock EasyMail7 Overview
Your subscriber base is growing and so is the cost per campaign. Going for the monthly plan with email service providers means wasting more money if you don't send newsletters regularly enough. And the bigger your subscriber base becomes, the more expensive it is to communicate with them.
We at G-Lock Software are very proud to introduce you our unique email automation software for permission based email marketing — G-Lock EasyMail7. G-Lock EasyMail7 was specifically developed to save your time and money and eliminate the complexity and expense of operating a third-party email service or outdated mass email tools. It gives you the competitive advantage to boost online sales through email marketing without the high costs plus YOU own and have control over your lists and data, not someone else.
G-Lock EasyMail7 is built on a client-server model. The program consists of two components: EasyMail7 Server and EasyMail7 Client with beautiful, easy to use and understand user interface.
The EasyMail7 Server installs on a local computer or a Windows Server 2008/2012, Amazon EC2 or Windows Azure Virtual Machine where you can deploy your own customized Windows Server. It runs as a service in the background and does most of the work: send out messages, check for incoming returned messages and update the contact lists.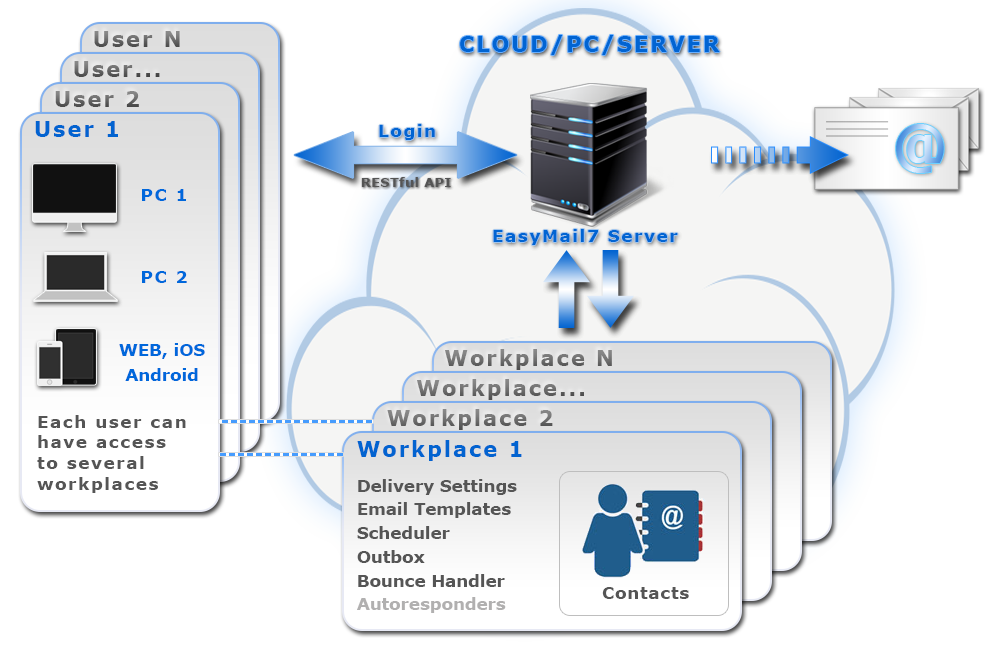 The EasyMail7 Client can be installed on as many computers as you want. Users login to the EasyMail7 Server from their computers and manage email lists and campaigns.
Admin can create and manage users and workplaces and assign users to workplaces.
Using RESTful API you can integrate G-Lock EasyMail7 into your business process.
Advantages over Similar Programs