How to Send Emails to WPNewsman Subscribers Lists from G-Lock EasyMail7
---
G-Lock EasyMail7 is integrated with our WPNewsman newsletter plugin. If you are using G-Lock WPNewsman plugin to collect subscribers using an opt-in form on your website, you can create a direct link to your subscribers' lists from G-Lock EasyMail7 and send email newsletters to your subscribers from G-Lock EasyMail7.
It is useful when:
 You have the Lite version of WPNewsman where sending is limited to 2000 subscribers only.
 You have the Pro version of WPNewsman but your site does not cope with big subscribers' lists.
 Sending in WPNewsman does not work on your site for some reason.
 You want to use autoresponders to send follow-up emails to your subscribers.
 You want to send emails through the Amazon SES API instead of SMTP.
 You want to use unsubscribe directly option instead of mailto: link.
Step 1. Creating Link to WPNewsman Subscribers' List
To create a link to the subscriber's list in WPNewsman from G-Lock EasyMail7, follow these steps:
Login to your WordPress dashboard.
Click on "Settings" in WPNewsman menu.
Click on the "API" tab in WPNewsman Settings.
Copy your API Key and API Endpoint.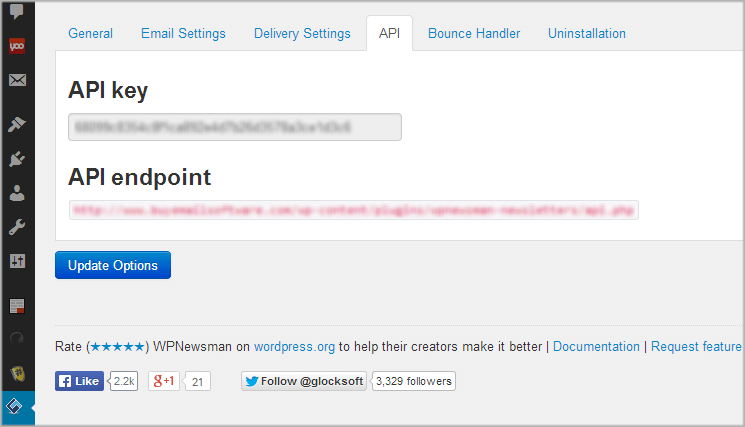 Open G-Lock EasyMail7 and go to "Contacts".
Click on "Connect to Database" on the menu bar.
Select "WPNewsman Lists".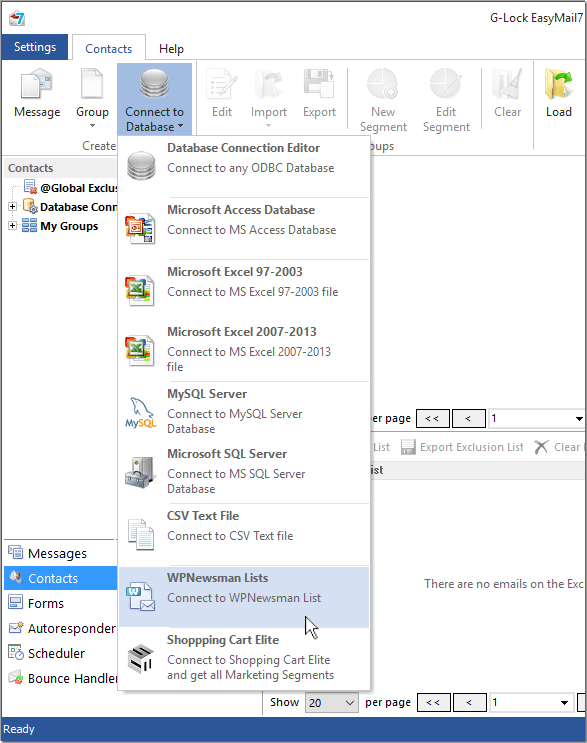 Type a group name.
Copy-paste your API endpoint and API key from WPNewsman.
Click on "Get Lists" button.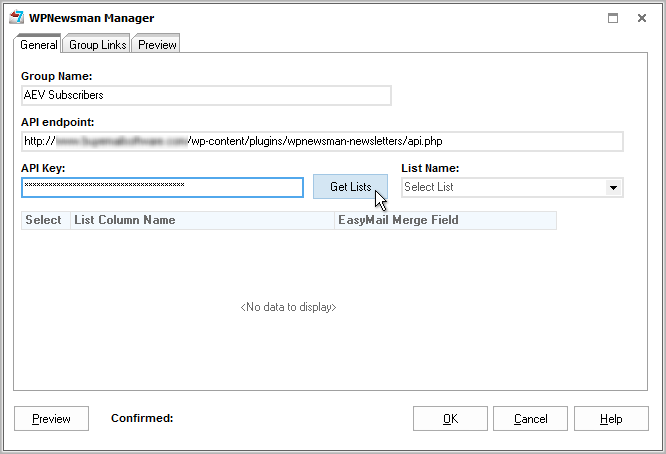 Select the list in the "List Name" menu.
Click "Preview".
The program show the top 50 "confirmed" subscribers from the list. "Unconfirmed" and unsubscribed users are skipped.
Important! When you create a link to a WPNewsman list, G-Lock EasyMail7 automatically takes the unsubscribe link from WPNewsman. You can click on the "Group Links" tab and see the unsubscribe link that will be used for this list. You cannot edit this link.
Click OK to save the link to the WPNewsman list.
Step 2. Sending Email to WPNewsman Subscribers' List
The process of sending the email to WPNewsman subscribers is the same as for any other database.
Create the message.
Use the Dynamic Fields menu to add the unsubscribe link. As it was told before, the program will insert the unsubscribe link from WPNewsman.
Select the email server account in the "From" field.
Select the database link to your list in the Group menu.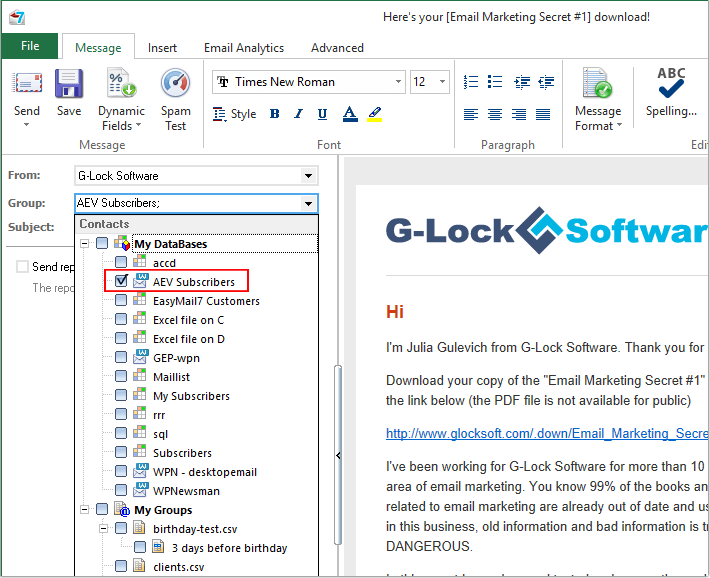 Click "Send" and choose the sending option.
Bounce emails can be processed and automatically unsubscribed in your WPNewsman lists by the Bounce Handler in G-Lock EasyMail7. You cannot choose the action (delete, insert or update) but if you check the "Enable Bounce Handler Action for each external database" option in the Bounce Handler account settings, G-Lock EasyMail7 automatically unsubscribes bounce emails in WPNewsman lists. Here you can read more about
how to setup the Bounce Handler to process bounce emails in external databases
.