7 Tips for How to Create Spam Free Email Marketing Campaign

We all hate spam in our Inboxes — unwanted, illegal email from unknown senders pushing anything from watches to drugs. The bad thing is that legitimate email newsletters are mixed with this junk which makes it difficult for the user to find and read valuable emails they are subscribed.
The good thing is that CAN-SPAM Act and Internet service providers are addressing this problem. Anti-spam programs help but do not solve the problem completely. As a marketer, you can also take measures to ensure your emails get through to your recipients building loyalty to your company and converting them into customers.
Follow these 7 tips to ensure your email marketing newsletters are read by your audience and not dismissed as spam:
1. Build a confirmed opt-in email list.
Remember that email marketing starts with permission. This means you can only send emails to people who gave you their consent to receive emails from you. Put the subscription form on your site and collect email addresses in a straightforward way telling clearly what people subscribe to.
If you sell products online, give an option for buyers to subscribe to your newsletters either on the ordering page or on the product's activation form. Do not confuse buyers with subscribers.
2. Do not hide who you are or what your email is about.
You cannot alter or falsify your header information. You must send your marketing messages using the "From" and "Reply" email addresses that you own and monitor. You can setup a new email address on your domain, for example, newsletter@domain.com, and use it for your newsletters only. Do not send from a noreply@ email address. People must know that they can always send you an email in response in case they have any queries.
The subject line cannot be misleading either. To entice people to open the email, you can hint what your email is about in the Subject line, but do not trick your subscribers as you risk to have your further emails ignored.
3. Use a recognizable name or email in the "From" line.
When a new email arrives to the recipient's Inbox, the first question they ask themselves is "Do I know the sender?" In most cases the answer determines whether the email will be opened or sent to trash.
You have just a second to get the subscriber to recognize that the email is from you. With that in mind, use a name or email address they will recognize instantly and stick to it over time so you build up brand recognition.
4. Include a subscription reminder.
Track when and where you collect subscribers, whether at your web site, a conference or a trade show, and remind them of your connection upfront in each newsletter.
"You are receiving this message because you subscribed to our email list at www.glocksoft.com on 21-05-2014. Not interested anymore? Click here to unsubscribe".
And don't wait months to send the first email newsletter as they can forget you after a long period of silence.
5. Send the relevant content.
Even the subscription emails can be seen as spam if you send irrelevant content. Stick to the promise you made on your landing page. If you promise to send tips, tricks and advises in your niche, pure advertisements and promotions may not be welcomed by your subscribers.
Of course you want to sell your product or service so do it gently. You can start your newsletter with something for free, such as a "how to" advice, or free download, an exclusive coupon for "most active subscribers only" etc. Give them something they can use. Engage before you sell.
6. Do not forget to send the unsubscribe link.
To comply with the CAN-SPAM act, you must setup a working unsubscribe process and send the unsubscribe link in all your email campaigns. It can be an online mechanism when people are unsubscribed immediately, or unsubscribe requests can come to you via email awaiting to be processed. Process opt-out requests on a timely manner and take them off your list within 10 days.
In G-Lock EasyMail7 you can insert the unsubscribe link into the email just with two mouse clicks. Our email marketing software is supplied with the ready-to-use unsubscribe link and Bounce Handler that processes unsubscribe emails after each campaign. You can setup the program to automatically delete or unsubscribe people who sent opt-out requests.
7. Include your contact information into your newsletters.
The minimum contact information you can have in your emails is your email address. Of course, the subscriber can click on the "Reply" button to contact you, but it adds more trust when you do not hide your contact details. You can write your email in the signature, or add a line above the signature "Should you have any queries, please, send me an email at youremail@domain.com".
In addition to the email address, you can include the phone number, web site URL, and postal address of your company to ensure the subscriber that you're a real person or that your company really exists. The more people will trust you, the more emails they will read and the more they will buy from you.
The email marketing experts will continue to work hard to the benefit of legal senders to put spammers out of game. You personally can follow the above tips to make sure your email newsletters are always perceived as good ones.
So, ask yourself two main email marketing questions: Will my subscribers easily recognize who sent this email? Will they find it interesting and valuable? If you can say yes to both questions, send the email.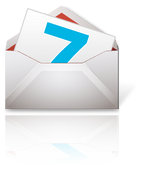 Try EasyMail7 for Free Today!
Еasily Create, Send and Schedule Promotion Emails, Newsletters or Invitations Your Customers Will Love.
Don't put your profits in the hands of a third party, be in control of your email — OWN YOUR DATA, OWN YOUR AUTORESPONDERS, CONTROL YOUR INBOX DELIVERY, REPUTATION, DELIVERY SPEED and either send email for free using your SMTP or use any number of third party email senders of your choice like AMAZON SES API… No Monthly Fees!
An effective email marketing system should include the following tools:
Automated email sequences that drip on your contacts over time to build trust and convert your subscribers into active and happy customers.
An email scheduler for planning your announcements, newsletters, and special occasion emails weeks or even months in advance.
A simple way for you to create sign-up forms so you can connect your marketing efforts to auto-populate your contact lists (we provide WPNewsman plugin for WordPress for free).
A professional collection of quality responsive HTML email templates that you can install and use for your newsletters on the fly.
An automated way of processing bounce and unsubscribe emails to be in compliance with the CAN-SPAM law in various countries.
Training and support from those who have years of experience in email marketing systems, management and success.
With G-Lock EasyMail7 you have the right email marketing system to help you maintain and grow your business.
---
Popular Articles
Tags: best spam free email, create spam free email, spam free email marketing