Schedule Email Reminders Based On Future Events With EasyMail7
With EasyMail7 you can automatically send emails to your subscribers to remind them of any upcoming events — anything from a greeting card, or subscription renewal to reminders that they have to attend a webinar, online training, giveaway or whatever event you planned.
Normally, a series of automated email messages is sent to all of the subscribers on the list based on the subscription date or the date when the user was added to the list.
With EasyMail7 you can also send emails to particular users on your lists based on an event that will happen in the future which makes this email marketing software usable across many different niches where email marketing can be used.
Here are some ideas of how you can use the EasyMail7's to schedule email reminders:
Birthday Greetings
If you have the subscribers' dates of birth on record, sending a birthday greeting card or exclusive offer is an excellent way to express your attention to your subscribers and show that you care about them and treat them as individuals rather than a bulk email list.
In EasyMail7 you can schedule to send just a "Happy Birthday" wishing, a special birthday discount offer or a gift to the subscribers whose birthday is today, tomorrow or will happen in 3 days.
Subscripition Renewals
If your contacts have recurring subscriptions with you, you will want to remind them in advance of upcoming renewals in order they can continue using your service without interruption.
This is an excellent opportunity to remind your subscribers of all the benefits they receive from their subscription to your service and encourage more people to renew. As an additional incentive to renew, you can think about giving a discount or extra month free to the subscribers if they renew early.
Medical Appointments
If you are a doctor, then you can send email reminders of the scheduled appointments to your patients. You can remind your patient about the time and location of the appointment, give them information about what they need to do in advance or what they will need to bring with them or wear.
Also, you can provide your contact details in case they have any questions and tell them how they can reschedule their visit if needed. You can even send a series of reminders within for example 10 days before the appointment date.
Hotel Bookings
If you are a hotel manager, you can remind your customers of their upcoming booking, including the information about the services and facilities at your hotel and telling them what they can do in the locality.
Flight and Holiday Bookings
If you are a travel agency, it's a good idea to remind your clients about their upcoming flight or holiday and tell them what they must have with them (valid passport, travel insurance, money, etc.).
Sales in Stores
EasyMail7 suits perfectly to send email notifications about upcoming sales, discounts or bonuses in the stores. If you are planning to give a big discount or sale, you can notify your clients about this upcoming event via email.
EasyMail7 is ideal for situations like above. Your subscribers will love the reminder, and it is good for your business to ensure that more people renew their subscription to your service or keep their appointments rather than miss them because they forgot it.
Like everything else in EasyMail7 sending reminders is simple.
Here is how you can schedule sending of the reminders to your subscribers.
Segment Contacts
Create a segment of the main group with the desired criteria. In case you want to send a greeting card, click on "Add Birthday Criteria" and choose the option: Today, Tomorrow, or in 3 Days.
Today – selects the contacts who have the birthday today.
Tomorrow – selects the contacts who will have the Birthday Tomorrow.
In 3 days – selects the contacts who will have the birthday in 3 days.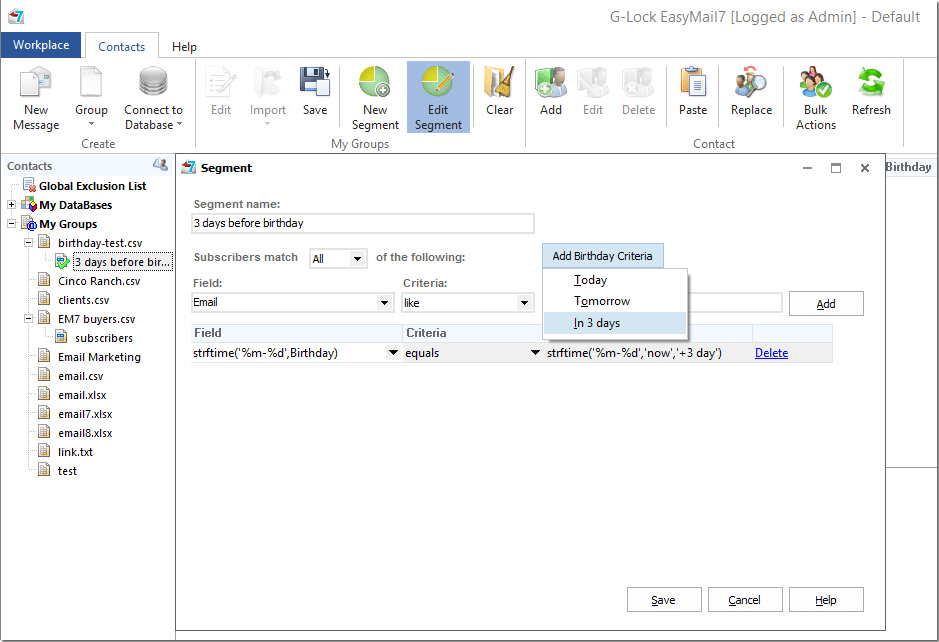 If you want to send a reminder about the subscription renewal, or medical appointment, or flight booking, etc., add the criteria by the field with the event date and use the value like
strftime('%m-%d','now','+8 day')
Example:
Subscription_date equals strftime('%m-%d','now','+5 day')
This means that the segment will show the subscribers whose subscription expires in 5 days.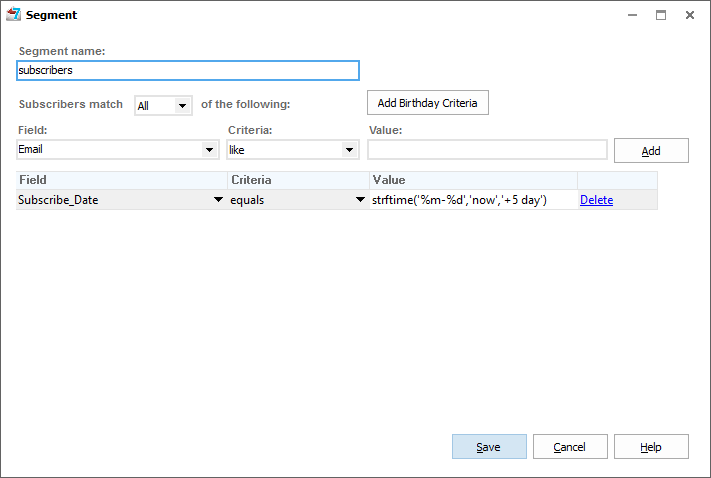 Write Email Reminder
Create a new message and write the reminder. You can write just one email or create a series of reminders; it is totally up to you.
Schedule Reminder
Choose the segment in the "Group" field, click send and choose "Using Scheduler".
Set the scheduler.
To send reminders every day, choose "Recurs every 1 day".
Starting date, end date and sending time is up to you to choose. Leave the today's date to start sending from today.
Do not check the "Send to new recipients only" option because the segment will automatically choose the subscribers for you.
Click OK.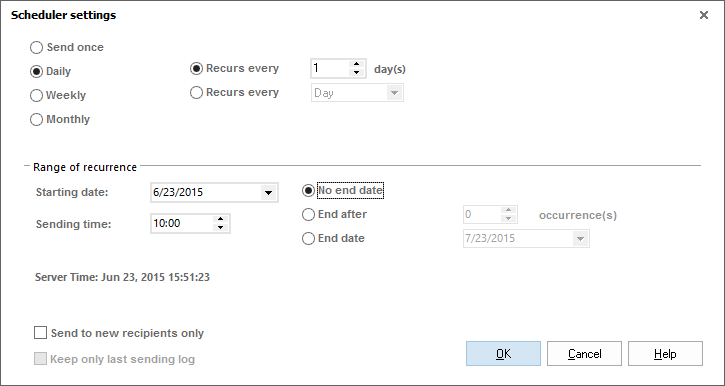 Now make sure that the computer where the EasyMail7 Server is installed is turned to On at the right time in order the reminder is sent as it is scheduled.
Now the subscribers that meet the segment criteria will get the reminder emails ahead of the event that you want to remind them about.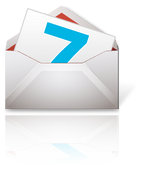 Try G-Lock EasyMail7 for Free Today!
What if your email service provider suddenly decides to delete your account or ban you?
Don't put your profits in the hands of a third party, be in control of your email — OWN YOUR DATA, OWN YOUR AUTORESPONDERS, CONTROL YOUR INBOX DELIVERY, REPUTATION, DELIVERY SPEED and either send email for free using your SMTP or use any number of third party email senders of your choice like AMAZON SES API… No Monthly Fees!
An effective email marketing system should include the following tools:
Automated email sequences that drip on your contacts over time to build trust and convert your subscribers into active and happy customers.
An email scheduler for planning your announcements, newsletters, and special occasion emails weeks or even months in advance.
A simple way for you to create sign-up forms so you can connect your marketing efforts to auto-populate your contact lists (we provide WPNewsman plugin for WordPress for free).
A professional collection of quality responsive HTML email templates that you can install and use for your newsletters on the fly.
An automated way of processing bounce and unsubscribe emails to be in compliance with the CAN-SPAM law in various countries.
Training and support from those who have years of experience in email marketing systems, management and success.
With G-Lock EasyMail7 you have the right email marketing system to help you maintain and grow your business.
---
Popular Articles
Tags: automatically send reminders, schedule email reminders, send email reminders