How G-Lock EasyMail7 Differs from Older Versions
G-Lock EasyMail7 is the great leap forward in email marketing applications for Windows and it's far ahead of older versions of G-Lock EasyMail and it's outdated competitors. G-Lock EasyMail7 is designed to help you stay in touch with your clients, prospects and subscribers in a more convenient and easy way, and eliminate the complexity and expense of operating a third-party email service.
If you are a customer of G-Lock EasyMail v6, check the below list of new features that differ G-Lock EasyMail7 from old versions:
Client-Server Application
G-Lock EasyMail7 is built on client-server model and includes two components: EasyMail7 Server and EasyMail7 Client. The EasyMail7 Server can be installed on a local computer or a Windows Server 2008/2012, Amazon EC2 or Windows Azure Virtual Machine where you can deploy your own customized Windows Server. It runs as a service in the background and does most of the work: send out messages, check for incoming returned messages and update the contact lists. The EasyMail7 Client can be installed on as many computers as you want which means you can access your data on the EasyMail7 Server from Client and send email campaigns from anywhere.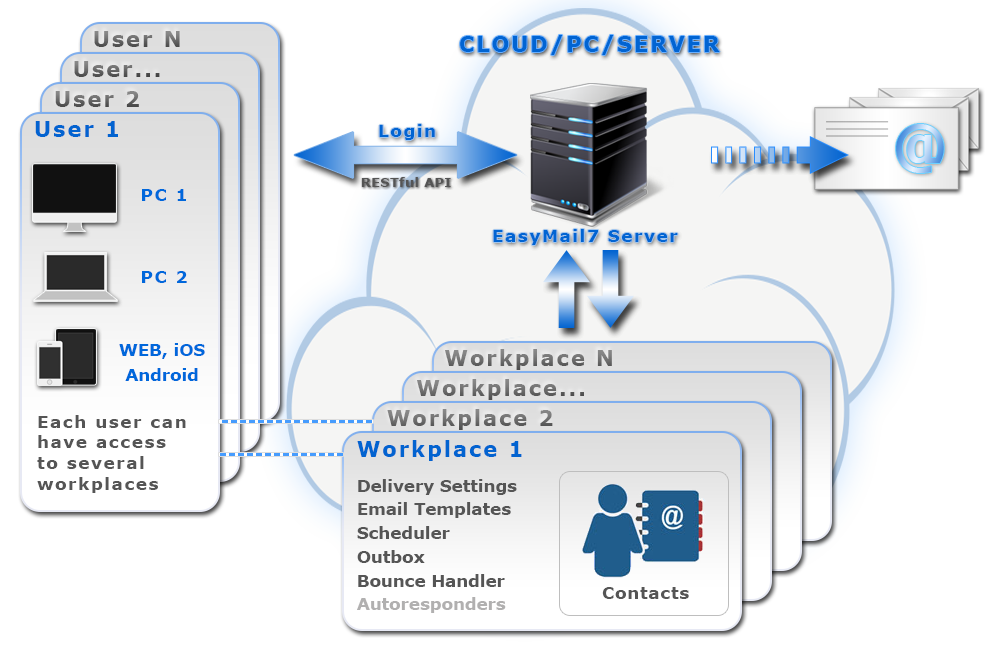 G-Lock EasyMail7 client-server model
Multiple Users and Workplaces
A workplace includes email server accounts, email templates and drafts, sent items, contact groups (internal and external lists), and Bounce Handler settings. If the license allows, admin can create many users and workplaces. Users login to the EasyMail7 Server from their computers and manage email lists and campaigns. Each user has the full control under his own workplace(s) allocated to him by admin. The program even allows multiple users to work within the same workplace simultaneously.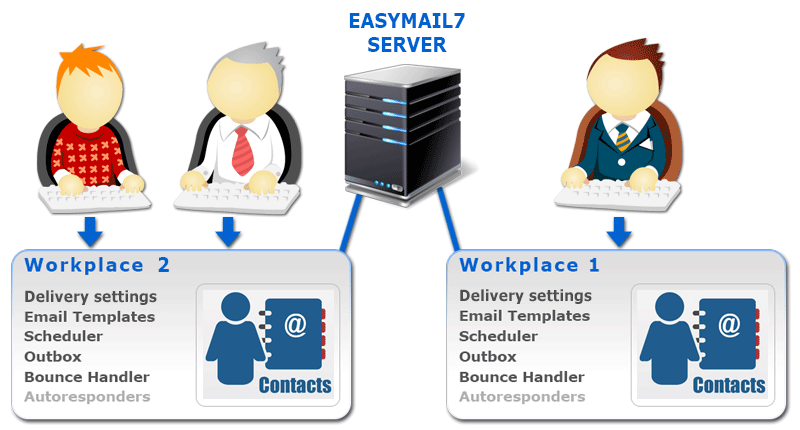 Each user has the full control under his own workplace(s)
Sending to More Than One Group at a Time
With G-Lock EasyMail7 you can send the message to more than one contact group at a time. You can preview the email fro each group separately. The program automatically skips duplicate email addresses between groups.
Easy Group Creation Directly from the File
If your contacts are stored in the MS Access, MS Excel 97-2003, MS Excel 2007-2013, CSV Text file, MySQL or MS SQL server database, G-Lock EasyMail7 allows you to quickly create a group directly from the file/database without using the Import Wizard. It takes just a few mouse clicks.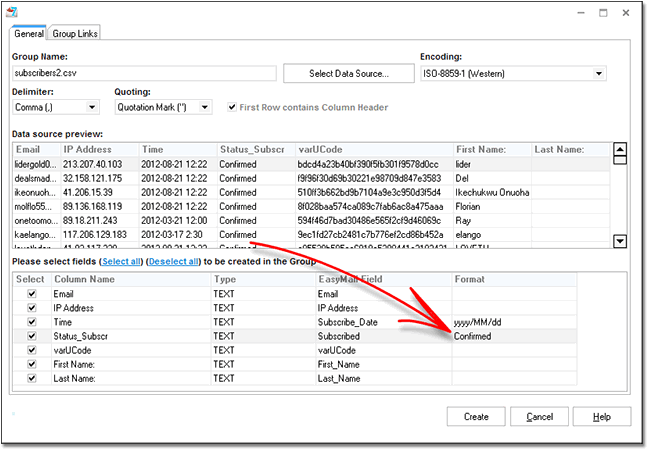 Easy group creation and import of contacts without Import Wizard
Integration with Google Analytics and Piwik Analytics
To track the recipient's actions on your website, you can use Google Analytics or Piwik Analytics. You can find out how many customers you're attracting, how your recipients are engaging with your site, and how much revenue they generate.
Integration with G-Lock WPNewsman Subscription Plugin
If you are using G-Lock WPNewsman plugin to collect subscribers using an opt-in form on your website, you can create a direct link to your subscribers' lists from G-Lock EasyMail7 and send email newsletters to your subscribers from G-Lock EasyMail7. You can use WPNewsman completely free just for storing your contact list and send emails to your contacts using G-Lock EasyMail7. The unsubscribe process is done online in this case.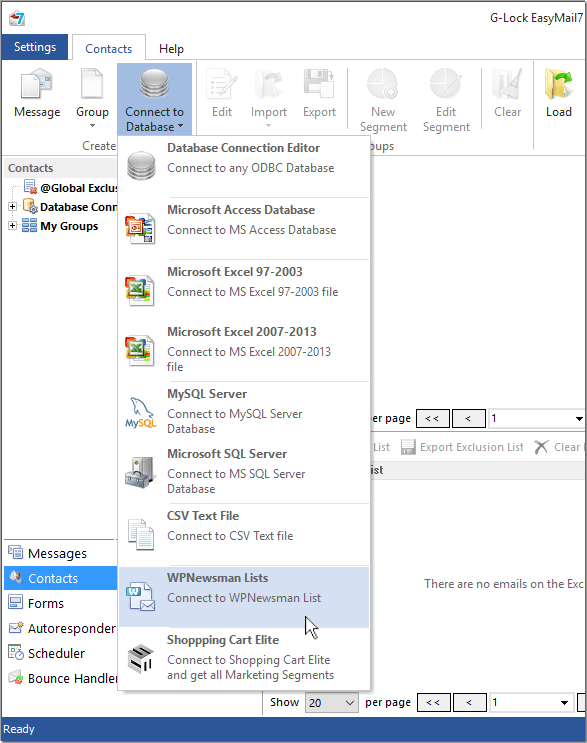 Integration with G-Lock WPNewsman subscription plugin
Customizable Unsubscribe Link
G-Lock EasyMail7 provides you a ready to use unsubscribe link that you can merge into the message. You can customize the unsubscribe link as you like and even have different unsubscribe links for different groups.
Bulk Subscribe/Unsubscribe Capability
You can subscribe and unsubscribe recipients in bulk in one or all groups by loading email addresses from a file.
Automatically Adds Unsubscribed Emails Tracked by G-Lock Analytics to the Global Exclusion List
When you enable G-Lock Email Analytics tracking for your message in EasyMail7, the unsubscribe process is done online and unsubscribed recipients are collected in your Analytics account. EasyMail7 can automatically add unsubscribes collected by G-Lock Analytics to the Global Exclusion List. The program does not send messages to contacts located in the Global Exclusion List. Plus, these contacts will be marked as "unsubscribed" in the internal groups.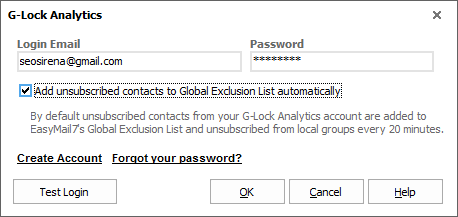 Automated Emails
Using automated emails in G-Lock EasyMail7 you can setup an email-based course for your contacts. For example, you can create a series of automated emails containing unique content and schedule the first one to go out immediately or in a few hours/days after the subscriber was added to your list or after any period of time has passed, the second – in 48 hours after the first one, the third – in 72 after the second one etc.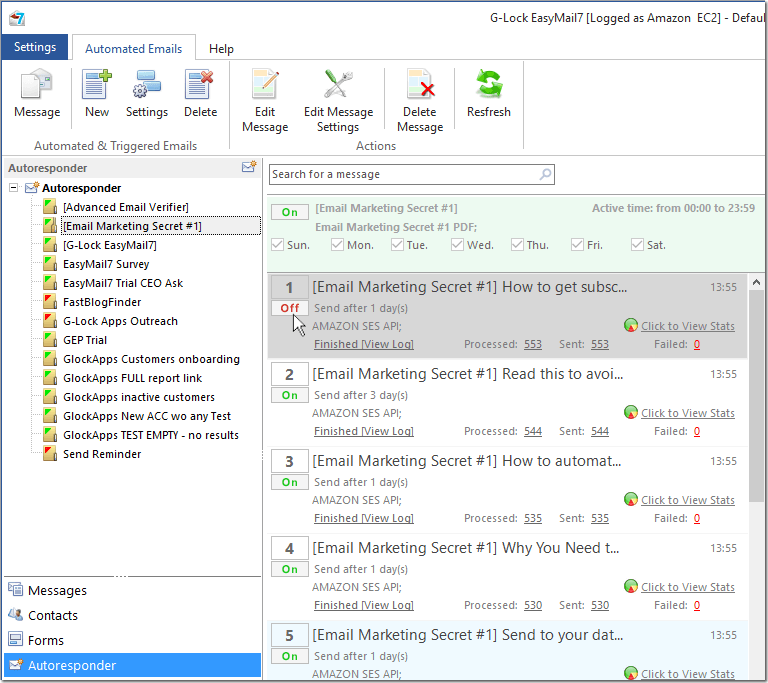 Automated Emails in G-Lock EasyMail7
New Bounce Handler
The Bounce Handler in G-Lock EasyMail7 can automatically unsubscribe or delete bounce email addresses from internal groups, update external databases, insert and delete bounce emails from external databases. Plus, the Bounce Handler can now process unsubscribe requests and automatically unsubscribe contacts who sent you the unsubscribe request from your groups.
Easy Image Upload to Web Server
You can upload pictures used in your message to your web server directly from G-Lock EasyMail7. The program will then automatically replace local paths of the images in the message with the paths on the web. This helps you decrease your message size, increase the sending speed and ensure the pictures will be displayed correctly within the message. Plus, you save your money if you send using a 3rd party service for example Amazon SES where they charge you for data transfer.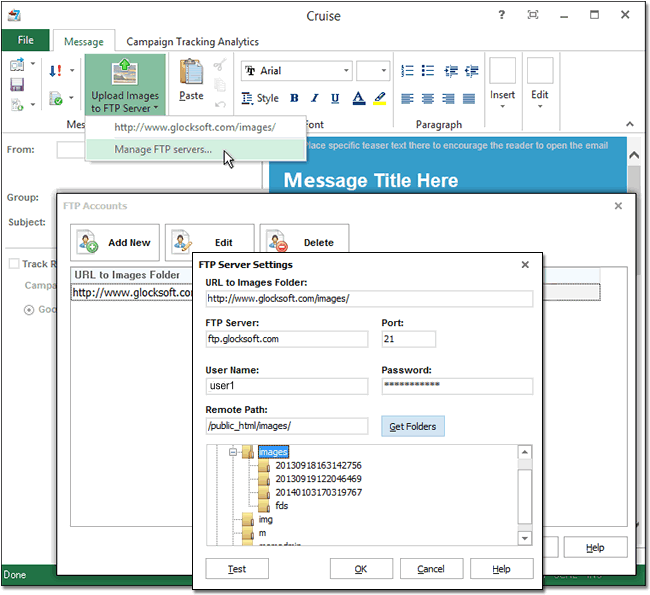 Easily upload images to a web site
Responsive HTML Email Templates
You can download the templates from the store and use them for your email newsletters. You can customize the templates as you like. Use the newsletter templates that come with G-Lock EasyMail7 to share how-tos, tips, and news of interest with customers.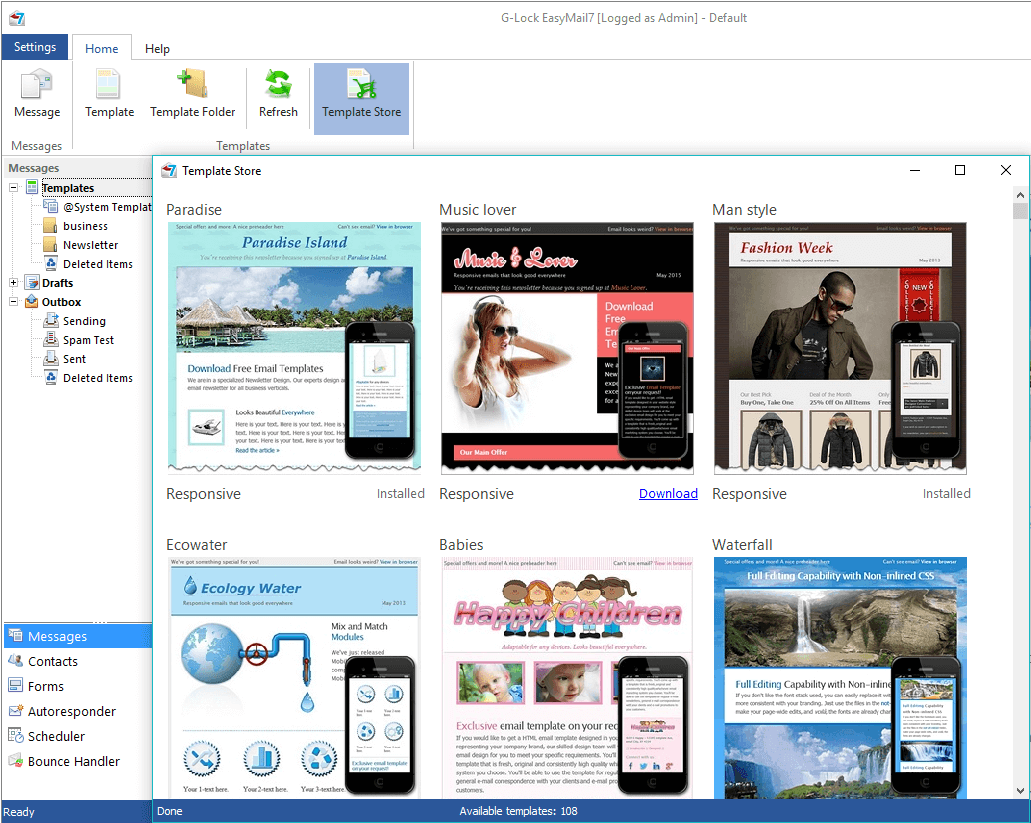 Inbox Delivery Test
G-Lock EasyMail7 provides a relevant reporting of email campaign performance with seed-based Inbox delivery testing, spam filter and authentication testing, and delivery duration monitoring.
From the Inbox delivery testing report you can see how your message is treated by major Internet providers around the world and whether it is delivered to the Inbox, spam folder or blocked before reaching the recipient's mailbox. In Gmail you will see if your message is delivered to the Primary or Promotions tab.
Spam filter testing helps you identify which filters are blocking your emails. You get a spam testing report from Postini and SpamAssassin. We also provide as much detail as we can squeeze out of them to help you troubleshoot.
Sender authentication testing checks your authentication each time you send an email to our seed list. You will be able to see on an individual email campaign basis whether your email is passing DKIM and SPF authentication.
Delivery duration tracking is also essential. It helps determine if there is an issue with ISP throttling. Rather than blocking your emails altogether, some ISPs will delay the delivery of emails when the volume passes a certain threshold. This can be particularly harmful for time sensitive promotions or important transaction emails.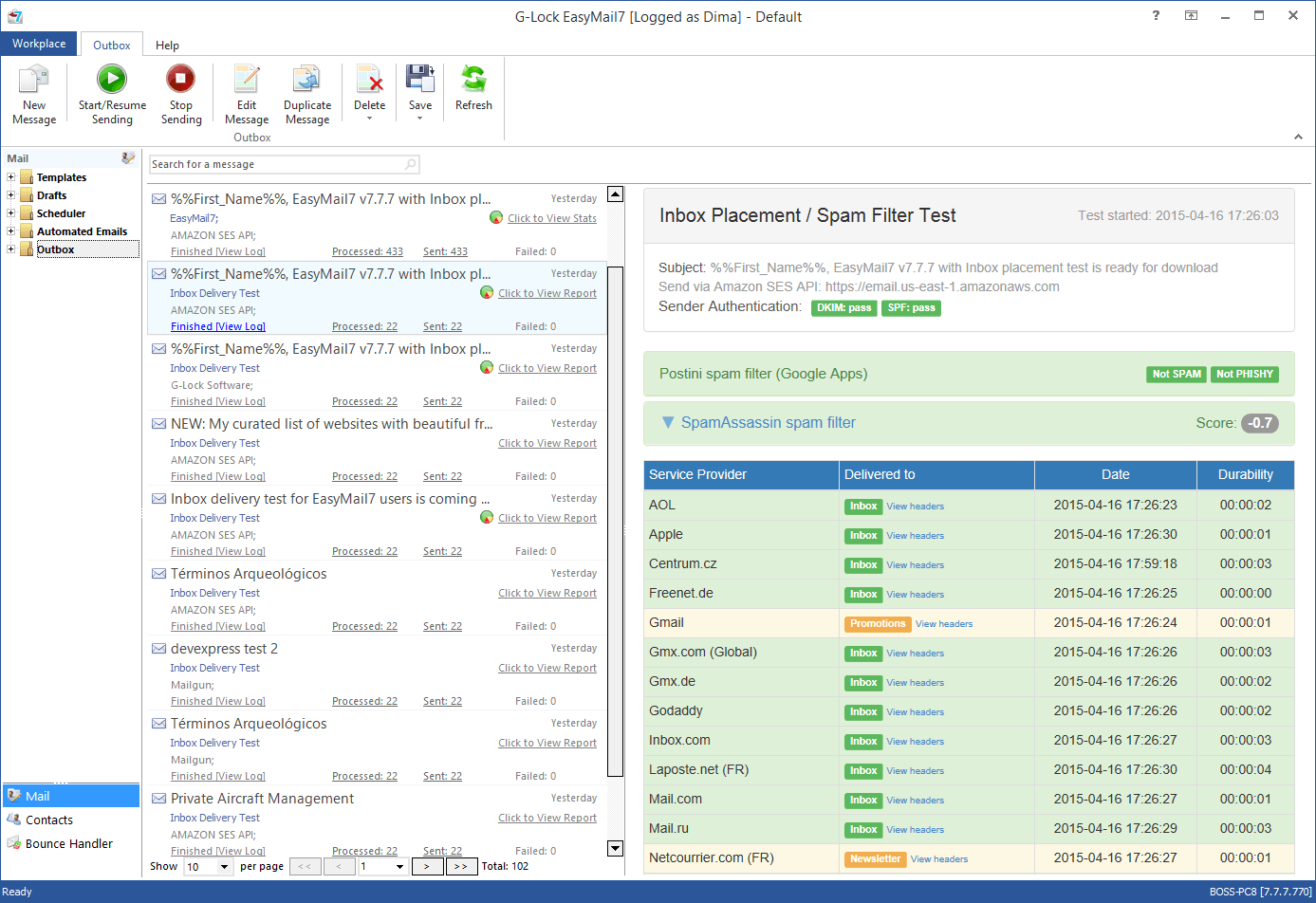 RESTful API
Using RESTful API you can integrate G-Lock EasyMail7 into your business process. For example, we have a web client developed with the use of RESTful API.
Free Trial vs Paid Editions
The 14-day trial version of EasyMail7 is limited to 250 emails per hour, 1,000 emails per day, 12,000 emails per month and 10 free Inbox delivery tests.
All paid editions have no sending restrictions and allow 30 free Inbox delivery tests per month for each user. Thus, the Personal edition provides 30 free Inbox delivery tests per month, the Business edition – 150 tests per month etc.
If you use all free Inbox delivery tests, you can always buy test credits from the program.
Want a convenient and easy way to stay in touch with your subscribers, clients or customers?
Try G-Lock EasyMail7 Today, It's Free!
---
Popular Articles