Canadian Anti-Spam Law for Bulk Emails
… and what you need to do to comply with Final CASL Regulations.
In 2010, Canada adopted an anti-spam law called "The Fighting Internet and Wireless Spam Act (FISA)". Recently published, its final regulations provide details on the requirements for valid recipient's consent, required contact information and unsubscribe mechanism to be included in each commercial electronic message. The anti-spam provisions will take effect on July 1, 2014.
The important things to remember: the statute is not just about email spam, but any "commercial electronic message", and any message via telecommunication, landline or mobile, such as text, sound, voice, image, IM, or "any similar account". Presumably, that would include social media venues as well. The regulations cover the sending part only. It is irrelevant whether the message gets delivered or whether the email address exists or not. It is the transmission alone that will be deemed illicit.
Let's have a closer look at the above regulations and how you can comply with them using G-Lock Software products.
Recipient's Consent
Under the Canada's Anti-Spam Law (CASL), marketers must obtain the "expressed" or "implied" consent of the recipient to send commercial electronic messages, including emails and certain types of social media messages, unless there is an "existing business relationship" or "an existing non-business relationship" with the recipient. Pre-toggled or pre-checked in boxes are not allowed.
For recipients you already have on file on the effective date who have not objected and with whom you have a relationship, there is an assumed "implied consent" to commercial messages for two years from the establishment of that relationship.
The statute defines the relationship in terms of actions or messages relating to actions. Generally, if it feels like business, it's a "business relationship". A business relationship includes inquiries also, but only for a duration of six months per each relationship.
The "non-business" relationship might have involved a donation or a charitable gift made within the previous two years, such as to a political party, charity or a candidate for public office.
When possible we recommend obtaining express consent. Express consent is when you explicitly ask your potential subscribers for permission to send them emails, and they agree. Once you obtain express consent, it is good forever or until someone unsubscribes.
In order to obtain express consent when collecting subscribers, make sure that your sign up form:
– has clear and obvious language asking for permission to send the contact future electronic messages;
– clearly tells what emails people will receive and at what frequency;
– contains a privacy policy statement;
– indicates that there will be an easy unsubscribe mechanism so people can opt-out at any time.
In addition, you'll want to make sure you have a process in place to document this express consent.
You can get express consent from the subscribers using G-Lock's WPNewsman plugin for WordPress. WPNewsman allows you to put an opt-in form on your site sidebar or within any page or post. The plugin uses a confirmed subscription method so you will be sure that subscribers really want to receive your emails.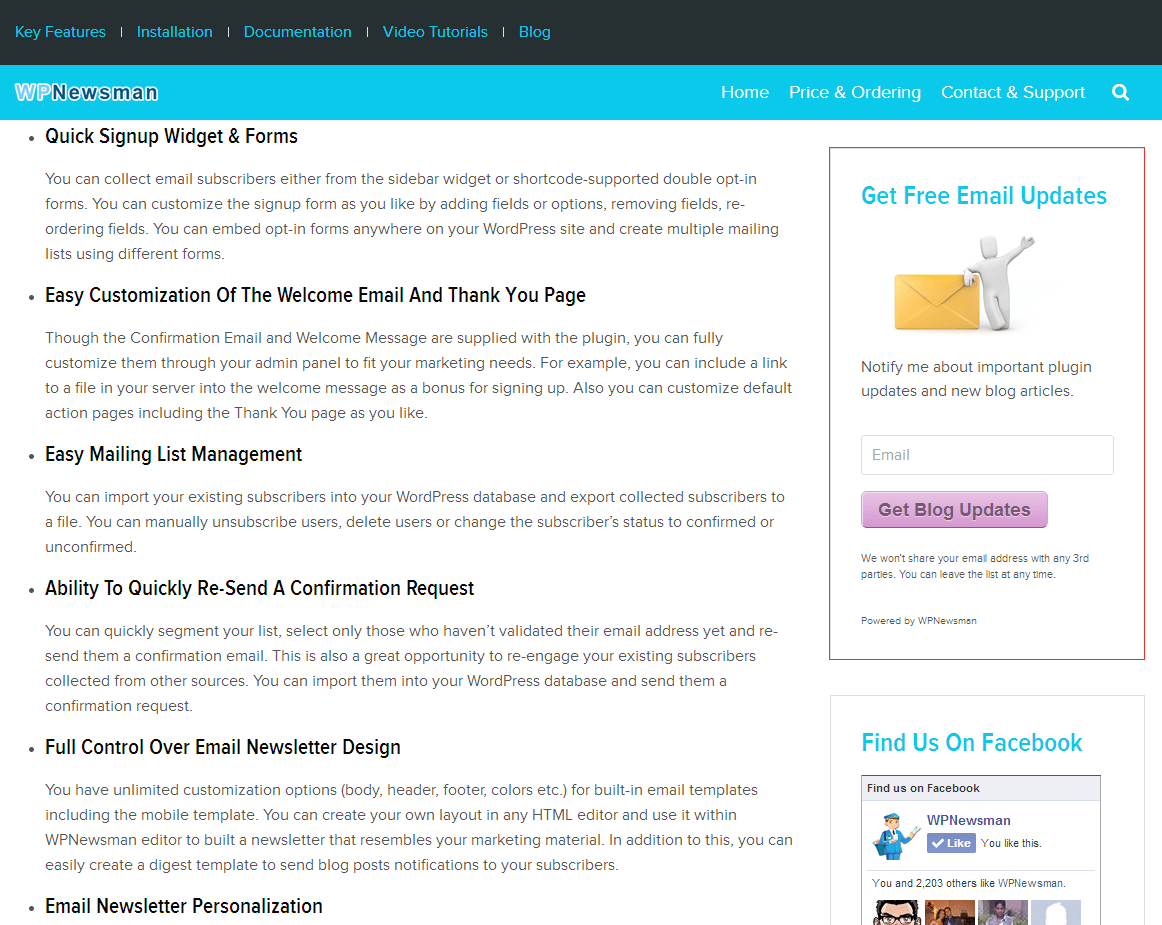 If you already have a list of users with whom you have a business or non-business relationship, you can import your existing recipients into WPNewsman and send them a re-subscribe request to confirm they want to stay on your list and protest yourself from violating the CASL regulations. All you need to do is to import your existing contacts with the "Unconfirmed" status and click on the "Send Re-Subscribe Request" button.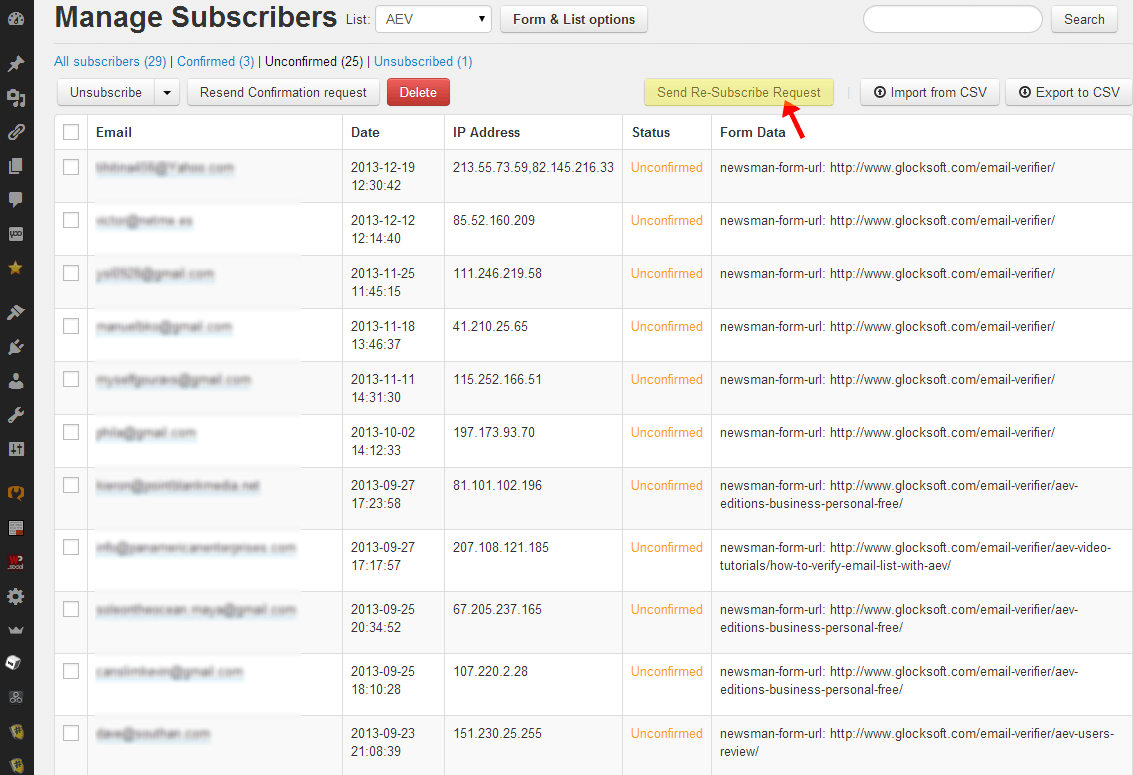 There are some exceptions for marketers though. They are:
 Responding to a request for a quote
 Employment-related matters
 Information regarding a subscription, membership, or maintenance arrangement of the addressee
 Information regarding delivery of a product or service previously ordered
 Personal messages
Contact Information
The law requires disclosure of the name and contact information of the sending company, and the company on whose behalf the email is being sent. There must be an easy means to object, i.e. "readily contact" the sender for 60 days from transmission. A phone number or an email unsubscribe mechanism should be acceptable to meet this requirement.
Unsubscribe Mechanism
There must be an unsubscribe mechanism included into the email. It can be a link to a website or an email reply unsubscribe link or "any other electronic means that will enable the person to indicate the wish". The industry in Canada believes a phone number would be acceptable as well.
You can easily comply with the regulations on the contact information an unsubscribe mechanism by using G-Lock EasyMail7 email marketing software. G-Lock EasyMail7 does not hide the information about the sending part and allows you to include your contact information into each message.
In addition, G-Lock EasyMail7 has the email unsubscribe link that you can add to the message with two mouse clicks. You can even have custom unsubscribe links for different email lists.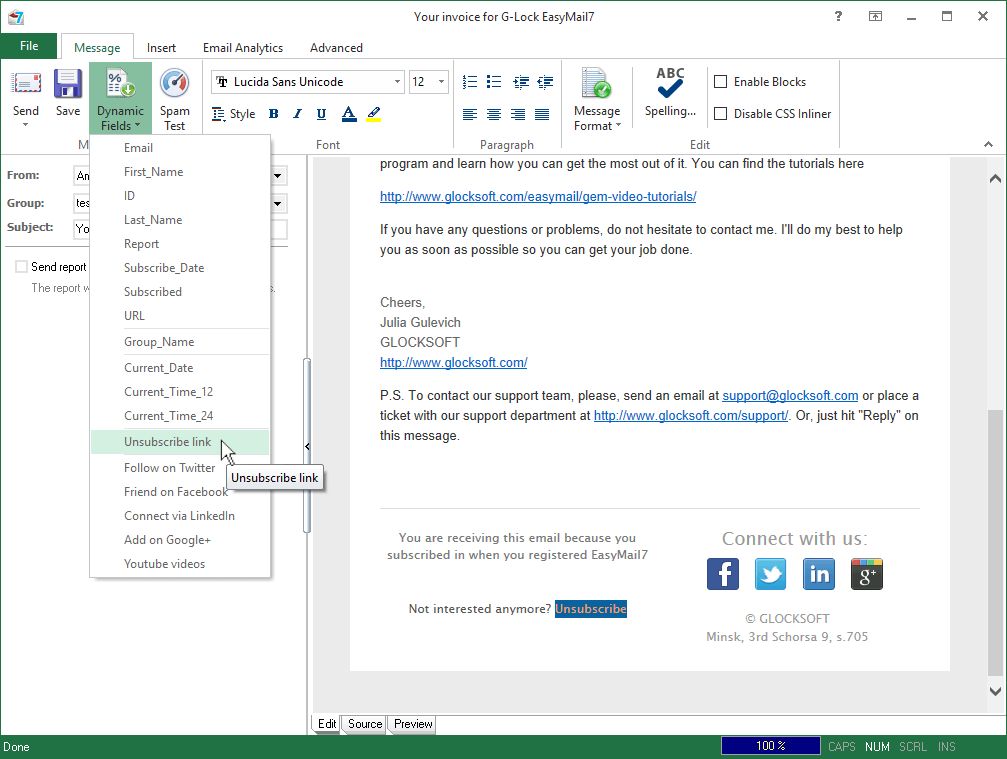 After each mailing G-Lock EasyMail7 can automatically unsubscribe or delete unsubscribed contacts from your groups. Here you can read more about how to process unsubscribe emails with G-Lock EasyMail7
Conclusion
To comply with CASL, you'll want to make sure your future email newsletters have the following information:
– clearly tells who is sending the message;
– identify the email service provider;
– have a mechanism for people to unsubscribe from any email at any time;
– include the sender's contact information (valid mailing address, email address, telephone number or web address in replace of email address).
All emails sent using G-Lock EasyMail7 email marketing system will include the information above and will be compliant with CASL.
Marketers who don't comply with CASL risk serious penalties, including criminal charges, civil charges, personal liability for company officers and directors, and penalties of up to $1 million for individuals and $10 million for businesses. So, it is wise for you to check your email marketing strategy for compliance with CASL regulations and take the compliance steps right away in case of any violation.
Any company with a database of email addresses obtained without affirmative recipient's consent, such as rented lists or gathered addresses, should consider determining the physical locations of those addresses – and obtain consent from Canadian residents. Obviously, ".ca" domains are Canadian, but the national location of addresses with gmail or domains like ".int," ".post," ".co" – the list goes on – could be anywhere. Protect yourself.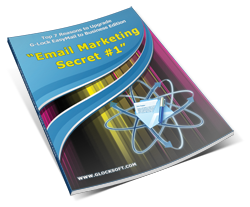 ☰ Get «Email Marketing Secret №❶» eBook for Free Today!
Download our PDF eBook and learn how to collect more leads and send highly responsive emails for free to grow your business and maximize your email marketing, not relying on expensive, restrictive ☠ email services that charge high monthly fees and ultimately control your profit at their whim. Be in control of your email…
---
Popular Articles
Tags: anti spam regulations, Canadian Anti-Spam Law, canadian anti-spam law compliance guide, casl legislation
Trackback from your site.