Track Your Email Campaigns in Real Time
G-Lock EasyMail7 is integrated with G-Lock Email Analytics, Google Analytics, and Piwik Analytics tracking services.
G-Lock Email Analytics is an extremely sophisticated email tracking service that provides real time tracking: email opens and clicks, prints and forwards, geographical location and email clients the recipients use to open the email. Unlike other email tracking services, with G-Lock Email Analytics you can brand your tracking links with your domain and make them look friendly for your recipients.
Plus, EasyMail7 with G-Lock Email Analytics uses the encrypted recipient's email address in the tracking links to enhance Inbox delivery because modern anti-spam filters may block email messages with links containing an email address.
G-Lock Analytics is a standalone service. The price for G-Lock Analytics is NOT included into the price for G-Lock EasyMail7 license. See G-Lock Analytics plans and pricing here.
You can see the email tracking statistics overview right inside G-Lock EasyMail7. The Overview shows the open rate and click rate, the number of opens, clicks, forwards, and unsubscribes. Plus, you can quickly see how many recipients read, glanced and skimmed your email.
In addition to the above, the email tracking overview lists the "Top Recipients Domains" the message was sent to and shows the percentage of each domain on your list. You can use this report for testing purposes. Create email accounts on at least top 5 domains your lists consist of and test how your email is received on each domain – whether it arrived to the Inbox, or has been filtered to a spam box, or was blocked even before getting to it – before sending your email to the entire list.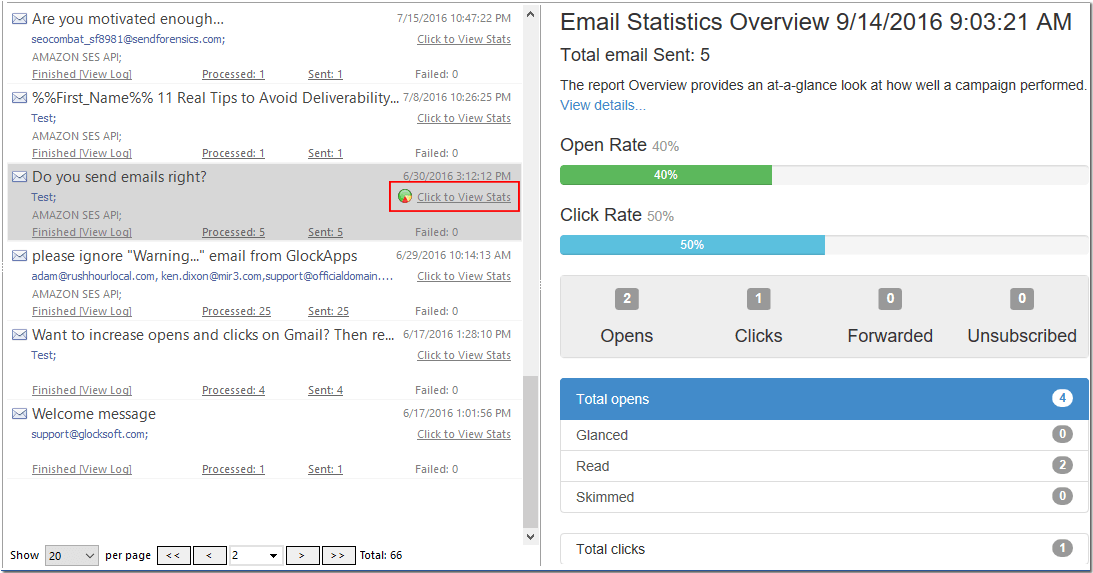 To get the full campaign statistics, click on "View Details". You will be redirected to the campaign reports in your account on G-Lock Analytics website.
To track what recipients do on your site after clicking a link in your message, you can use Google Analytics or Piwik Analytics.
Google Analytics generates detailed statistics about the visits to a website. You can find out how many customers you're attracting, how much you're selling and how users are engaging with your site.
Piwik Analytics is yet another tracking service that lets you track how efficient various marketing campaigns are in bringing visitors to your website (visits, page views, etc.), how well these visitors convert and how much revenue they generate.
Unsubscribe and Social Links