10 Ways to Use Automated Emails to Drive Traffic to Your Website and Increase Your Business Income
There is no completely free website traffic. If you do not pay with money for advertising, press releases, or articles, you pay with your time and creativity. So in order your investment does not go for nothing, you'll want to retain each and every subscriber you attract, from the very first days of their subscription.
That's why before you start collecting subscribers at your site, it's a good idea to build your autoresponder first. Automated emails are a tool that marketers and bloggers should consider as a means of driving traffic, reinforcing reader's engagement, converting subscribers into real buyers and increasing profits.
What to write in automated emails? Below I share with you some practical strategies for creating automated emails for your subscribers. You can also combine some of the following ideas into one follow-up series.
1. Free email mini-course
If you are an expert in your niche, you can create a sequence of educational emails to walk readers through some aspects of your niche. This is what we do for our "Email Marketing Secret #1" subscribers. Readers receive a series of 10 follow-up emails giving them tips about best email marketing practices and right tools to use to achieve success in online business.
2. Training after purchase
the good idea is to send follow-ups after purchase. You can send a series of training videos and tutorials to help customers get started with your product or service, tips, and tricks how they can benefit from your product, hidden features and options they can use to get the most out of their purchase.
3. Blog archives
Often new readers do not see your old posts. So why not use automated emails to introduce new subscribers into your best blog posts?
The first thing you want to do with any new subscriber is to engage them by delivering them some valuable information. A nice way to do that is to send them some of your best blog posts buried in the archives. Once per week or whatever frequency you want, send them a teaser and link to one of your old posts.
Alternatively, you can send a compilation email on a particular theme. For example, create one email that lists say 10 posts about spa and wellness, one email with 10 posts for fitness equipment, one more email with posts about weight loss and so on and send them as a series to your subscribers.
4. Showcasing your work
Showcasing some of your best work is a great idea for automated emails. For example, let's say you are designing email newsletters. People subscribe on your blog for some advice on what they need to know about email design. So, you set up a series of automated emails to deliver, over time, case studies of some of the past designs you've done for other people.
People often take the time to purchase. Showcasing your work with an automated emails series is the best way to stay in front of them so that when they are ready to order, you'll be there.
5. Affiliate promotions
Why not use automated emails to make some sales from affiliate products? If you are an affiliate of a product in your niche that you would recommend to your subscribers, you can add an affiliate promotion to your automated email series.
6. Promotion of your products
Creating a mini-promotion of the product you launched using automated emails is a must. People will receive your promos based on the time when they subscribed. It is actually a great idea because it leads to an extra revenue in addition to sales from your website. And you can include a subscriber-only offer or coupon code into one of your promo emails to seduce them to buy now.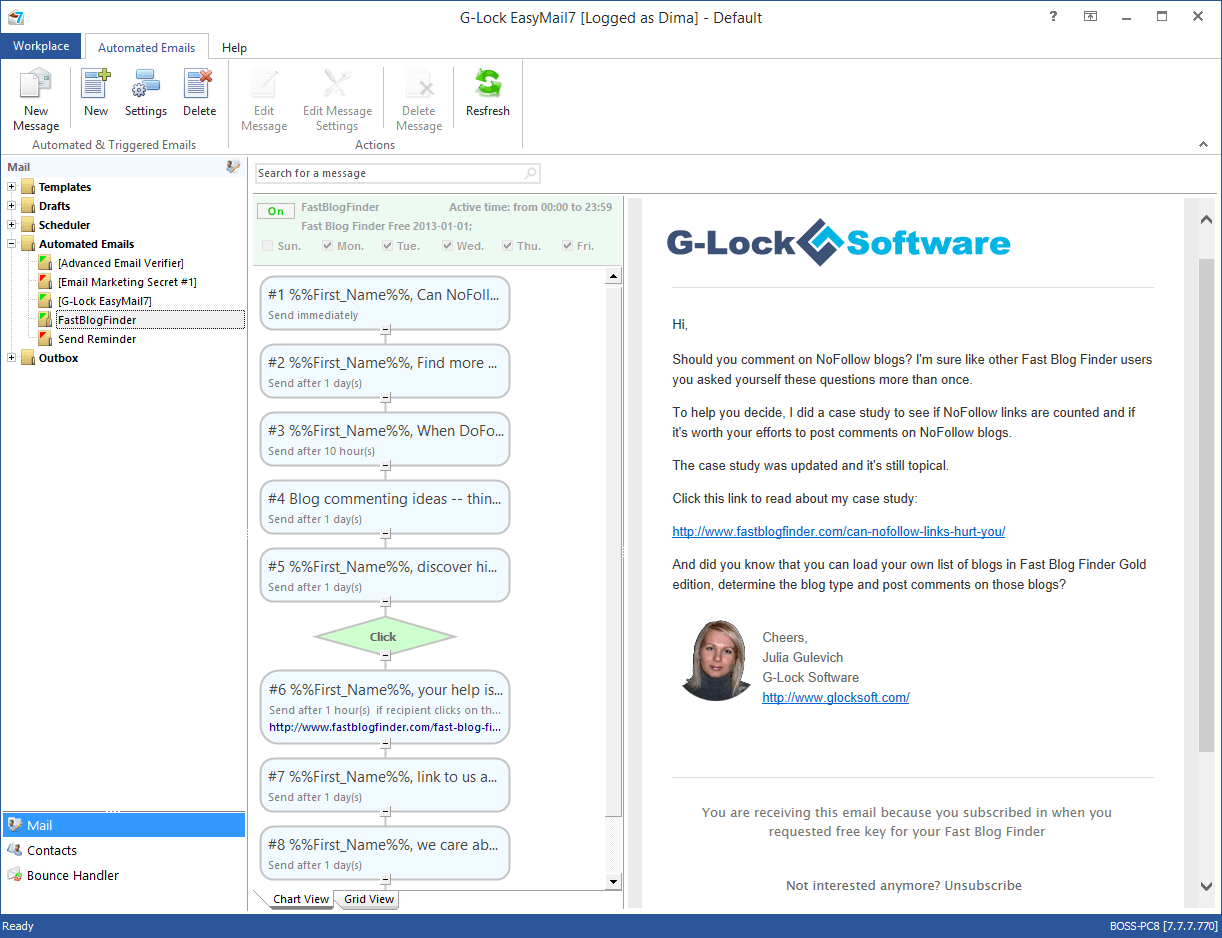 7. Upselling
This is another way to promote your products. When someone buys one of your products, you follow up with the promotion of a second product that complements the first product. For example, the customer bought an email verifier tool from you. In a week, you send them a proposal for email marketing software that they can use to send email newsletters to their verified list. Both products make good companions and are necessary for every email marketer.
8. Rerun successful promotions
If you had a promotional campaign in the past that performed very well, there is no reason you could not run it again. Add the same campaign to your automated email series and let it rerun it.
Be sure to correct the content. If you used deadlines in your past campaign or time-limited offers, you obviously will need to rephrase the text and include valid coupons that can be used anytime.
9. Surveys
Why not ask your subscribers what they need? You can include a survey as a part of your automated emails sequence. It will allow you to keep your ear to the ground and see what your subscribers need and want so that you can provide it to them.
To the existing users of your demo product, you can send a survey asking how they find your product, how their experience with your product is, what features they miss, what they would like to be added, etc. It's always a good thing to hear about the user's expertise.
10. Drip campaign for trial users
With automated emails you can develop a drip campaign for your trial users. Some time after someone starts using the demo version of your product or service, send them a short email once in a couple of days to tell them about hidden features of your product, their possibilities.
Also ask them if they need help from you. Tell them that if they face any challenges, you are there to assist. Customer support often plays a significant role when it's time for them to decide whether to buy from you or your competitor. Do not forget to tell them how they can get help (include your email, support page, phone number). The more personal the message tone, the better the outcome.
Important Things about Automated Emails
1  "Regular" readers pay attention to automated emails if they're concise and well written.
2 Subscribers will read automated emails more willingly if they solve a specific, burning problem. This is why you can setup multiple automated email series for specific audiences.
3 If you setup multiple automated email series, make sure that your subscribers get only one email from you per day. You don't want to get them unsubscribed because you send too much.
4 The email should push the reader to take action. Don't make your automated emails like a boring classroom lecture! Tell them a story. If you can use real stories from your life or from your happy users to convert your subscribers into customers, that's outstanding.
It is very important to track open rates and CTR (clickthroughs) of your drip campaigns. See which messages get a higher response and optimize your drip campaigns for each of your subscriber segment. Play with subjects, layouts, call-to-actions and text and you will create the perfect campaign which will inevitably lead to sales.
Now it's all about taking action.
If you already have an autoresponder at your disposal, then start setting it up.
If you don't have it yet, download our G-Lock EasyMail7 email marketing software now.
G-Lock EasyMail7 provides you with an incredible capability. You can use automated emails in G-Lock EasyMail7 to send automatic email campaigns to improve your reader's experience and convert your subscribers into customers. Here you can learn how to create an automated email series in G-Lock EasyMail7.
For example, you can set up an email course for your contacts and schedule the first message to go out immediately or in a few hours/days after the subscriber was added to your list or after any period of time has passed, the second message – in 48 hours after the first one, the third message – in 72 after the second one, etc.
After you set up an autoresponder, you don't have to think about it again — G-Lock EasyMail7 makes sure your campaigns get to your subscribers right on time.
---
Popular Articles
Tags: Autoresponders, best free autoresponders, free autoresponders software