G-Lock EasyMail7 v7.1.0: Now You Can Use Autoresponders for Email Marketing
One of the easiest ways to dramatically impact your conversion rate is to engage with your subscribers via a well-written, educational email series that brings them back to your product or service.
And the best way to setup an email series is through an autoresponder. Setting up an autoresponder is the first step for an effective use of your opt-in emails to grow your business.
In the version 7.1.0 of G-Lock EasyMail7 we added autoresponders — automatic email campaigns that improve your reader's experience and help you convert prospects into customers.
Using autoresponders in G-Lock EasyMail7 you can setup an email-based course for your contacts. For example, you can create a series of follow-up emails containing unique content and schedule the first one to go out immediately or in a few hours/days after the subscriber was added to your list or after any period of time has passed, the second email – in 48 hours after the first one, the third email – in 72 after the second one etc.
After you set up an autoresponder, you don't have to think about it again — G-Lock EasyMail7 makes sure your campaigns get to your subscribers right on time.
Here you can read about how to create autoresponders in G-Lock EasyMail7.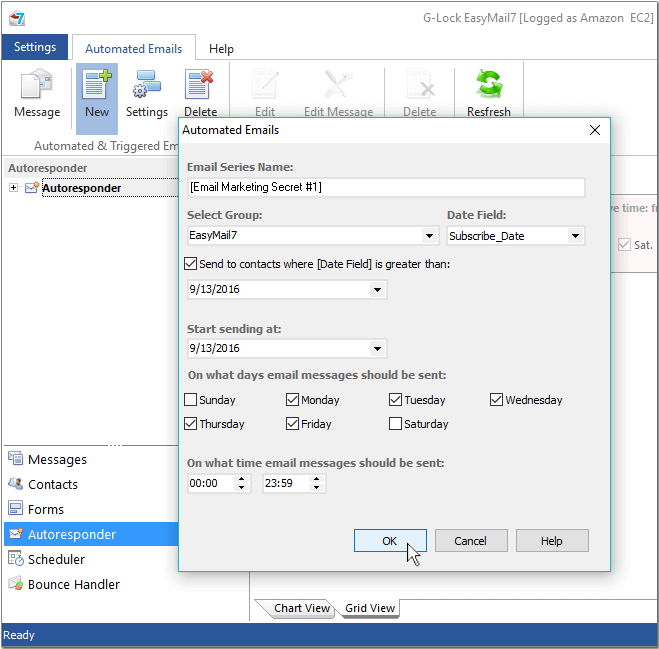 Plus, in the version 7.1.0 of G-Lock EasyMail7 we added the export of the date and time for each sent message and fixed the date stamped in the messages sent by the scheduler. Older versions stamped the date when the message was scheduled but not actually sent to the message header.
Click here to download the free v7.1.0 version of G-Lock EasyMail7.
If you have a paid license, download your licensed 7.1.0 version of G-Lock EasyMail7 here.
Important! Make sure you always update both EasyMail7 Server and Client to the latest version to avoid errors and wrong functionality of the program.
---
Popular Articles
Tags: Autoresponders, autoresponders email marketing, free autoresponders software