11 Reasons to Test Email Before You Send It
Often we're so hurry to send our newsletter that we do not have time to test it. Sometimes we are too lazy to do that relying on the template designer, or successful past mailings.
The truth is that every email newsletter should be tested even if you or someone else used that template yesterday. Not only can email clients and webmail apps damage your design, but they can also cut off links, subject lines, and images. Such glitches can negatively affect your email open rate, click rate, conversions, and most importantly your sender reputation.
Thus, whether you designed a new email from scratch, or used an existing email template, there is still a need to test the message before it goes out to your subscribers.
Below are 11 reasons to test each email newsletter before sending:
1. Drop of the HTML or CSS support.
Not only does inconsistent email rendering across different email applications cause troubles to email marketers, but the big issue is also that email clients stop supporting some HTML and CSS attribute without notice.
Thus, Outlook.com stopped support for margin, and after the latest update Yahoo!Mail is no longer supporting the align="center" attribute forcing email designers to shift to the left of their intended position.
So, even if you tested your email template in the past, your design can be affected by unannounced updates and changes in email clients and your message can look awkward in the recipients' inboxes.
2. Broken or not working links.
Broken or not valid links suck every time. When you send HTML emails, links are typically hidden behind an anchor text, button, or image making it difficult to check the links quickly.
But if you don't want to lose subscribers or sales by sending your leads to a 404 page, you must test all of your links before hitting "Send". You can click on each hyperlink and verify the URL, or you can send a test message to yourself and click each link to make sure it leads to the correct page.
It is also a good idea to verify that the URLs you use in your email are not blacklisted — that can hurt your delivery rate. If you use a tracking service, make sure the web pages open correctly, and link clicks are tracked.
3. Missing images and ALT text.
Missing images are another big headache for email marketers. You need to ensure that they are loading correctly. You or someone else might have deleted or moved images to another folder — thus, your recipients will end up seeing red x's instead of your beautiful design.
A good practice is to upload images to a web server and link to them from the email. This way, you considerably decrease the message size (smaller size, faster sending) and ensure the images will be loaded correctly in the email and won't come as attachments. Again, make sure the images exist in the right folder on the server before sending the email.
In G-Lock EasyMail7 you can upload the images used in the message to your web server without using a third party FTP client. EasyMail7 automatically changes local paths to the pictures to online paths after upload.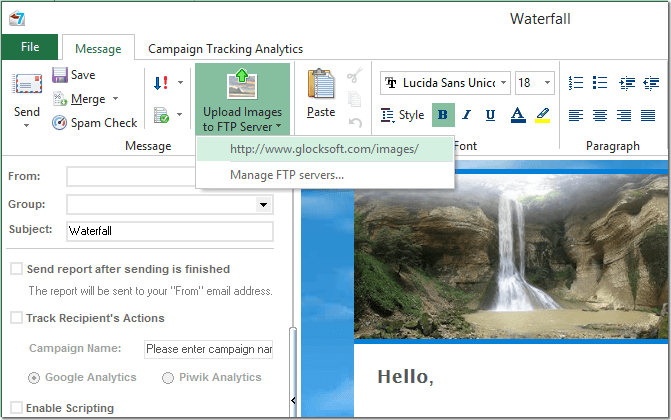 For many recipients, images may be blocked automatically due to their email client's settings or a personal choice. With that in mind, the use of an ALT text (alternative text), which appears in place of an image, is recommended. Test your emails with images disabled to ensure that you added an ALT text and that it is appropriate for the image it's representing.
4. Not optimized preview pane.
Remember that the recipients are only taking 3-4 seconds to decide if they are going to open your email or not. To encourage that open, you should optimize the preview area: from name, subject line, and preheader text.
The from name must be recognizable by your subscribers. Avoid using "noreply@domain.com" email address which appears spammy, does not instill trust nor encourages people to open the email because there is no way to contact you back.
The Subject must be spelled correctly and hint the subscribers what's in it for them. Special characters work well to grab the recipient's attention. Just make sure they are supported by various email clients while sending a test message.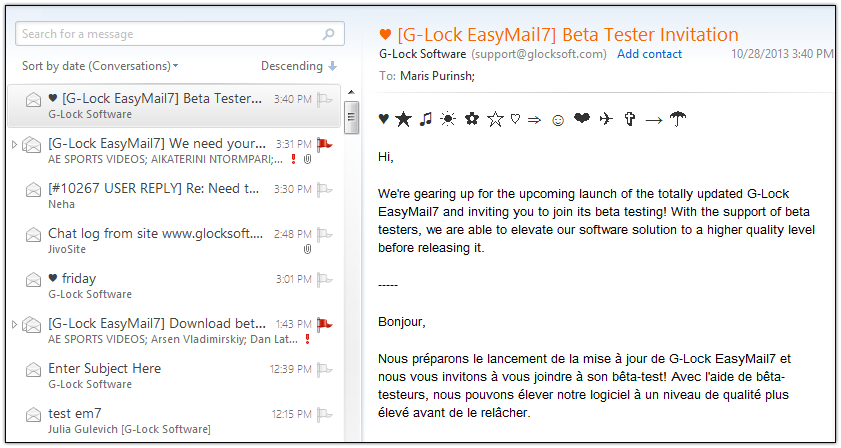 Some email apps such as Gmail, Outlook, iPhone, iPad display preheader text after the subject line. Don't miss the chance to use that additional space to your advantage! Preheader text is usually limited to around 100 characters and is taken from the first lines of your email. It's the nice opportunity to lure the subscriber into your message and …it's also another place for you to make an error.
During your test ensure that preheader text is relevant to the message content and that it is spelled correctly. Again, if you are using special characters in this part of your email, ensure these elements render correctly across various email clients and apps.

5. Grammar errors.
There is no way to recall the email once it is sent. And if you found a spelling or grammar error in the email too late, there is virtually nothing you can do except sending a follow-up message with apologies.
Since people used to scan emails, minor spelling and grammar errors in the text often stay unnoticed by readers. The bad thing is when a typo appears in the places that get the most attention such as the Subject, titles, call-to-action URLs, and buttons.
There are simple steps to avoid these issues: 1) proofread your email yourself numerous times, 2) proofread your email in the reversed order, i.e. starting from the end — this way you distinguish each and every word, and 3) have someone to read the email with a fresh set of eyes. One pair of eyes is good, two are better. Copying your text into an MS Word document also helps detect spelling errors.
6. Irrelevant or broken plain text version.
If you send emails in the MIME (multi-part) format and your email marketing software allows you to access the plain text version, so do not forget to check the text part as well. You'll need to make sure that the plain text version is relevant to the HTML part and that the links are working. If a hyperlink in the HTML part is OK, it won't work in the text part. Ensure your links are written as full URLs.
If you use many images in the HTML part, check if the plain text part is readable and can be understood without images. Also, verify that ASCII characters, such as copyright, trademark, smart quotes, and others aren't corrupted in your plain text part.
7. Broken dynamic content.
If you use dynamic content in your emails, there is one more point in your checklist. You have to ensure that your merge tags are in the right format and are pulling in the correct information from the address book. Also, ensure that the replacement text is present for instances where the subscriber's data is missing.
It's especially important to test if you switched email service providers because ESPs often have different merge tags. So you'll have to verify that your dynamic content is still working. You don't want your subscribers receiving an email that starts with "Dear %%first_name%%".
In G-Lock EasyMail7 you can preview the message with dynamic content for the first 10 contacts from each group you will send the message to and ensure that the contact data is merged as it should.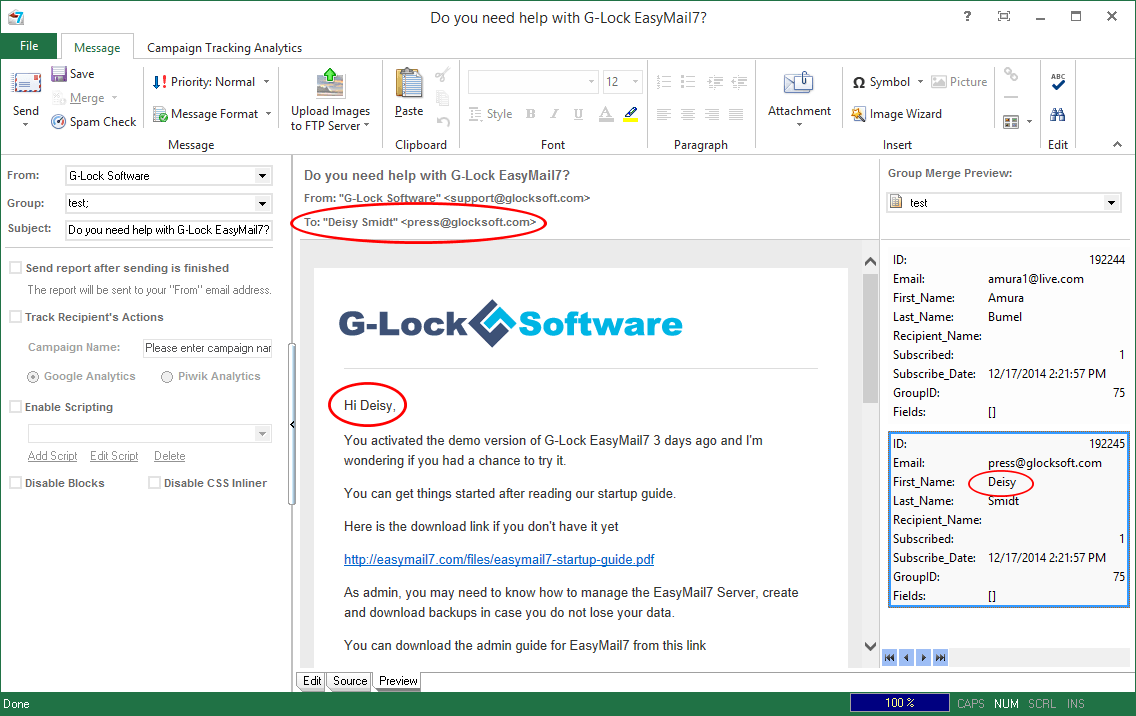 8. Unwanted links on iPhone/iPad
Dates, addresses, phone numbers and some random words often turn blue and underlined in emails viewed on an iPhone or iPad. They trigger events supported by the application, such as make a call or create a calendar event. It can be convenient in some situations, but in others, they can be trouble and hurt your carefully-planned branding.
With that said, we recommend testing your email newsletters on mobile devices as well to ensure that all blue links do not decrease legibility.
9. High spam score.
Before you send the message, it's a good idea to check its spam score. The acceptable score is less than 5.0. If the spam score is more than 5.0, make the corrections according to the spam test report to avoid deliverability problems. The common reasons for a high spam score are: too many images and few text, embedded images, spam trigger words (viagra, etc.), mismatch of the message Subject in the header and HTML source, links from blacklisted domains.
G-Lock EasyMail7 has the built-in SpamAssassin filter that uses a diverse range of tests to identify spam. The filter analyzes the email header and body to determine its spam score. It's important to remember that the anti-spam filter checks the message locally, it examines only the content and header without the "received" information that is added to the header during sending. So, even if your spam score is good, but your SMTP server IP has a bad reputation/blacklisted, the message can end up in the spam folder.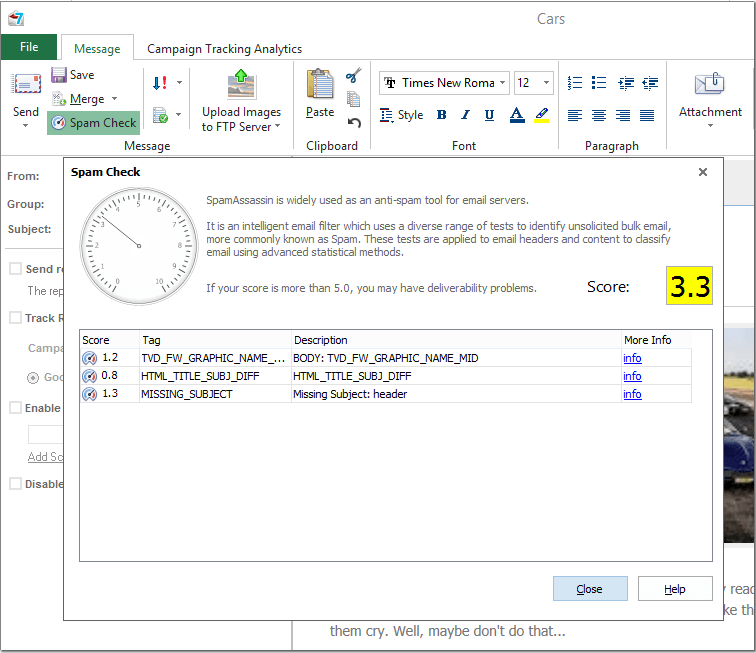 10. Not working unsubscribe link.
The unsubscribe link in the email is required by CAN-SPAM law. It is one more important thing to check before sending your email newsletter. Not only should you verify that the unsubscribe link is present in the email, but you should also ensure that the whole unsubscribe process is working correctly. You don't certainly want your subscribers hitting "This is spam!" button in case if they cannot unsubscribe.
Besides that, you have to ensure that people who unsubscribed will be excluded from your future mailings. Do not forget to delete those people from your main list or add them to the exclusion list. If your email marketing system can automatically do that like G-Lock EasyMail7, check out the whole process once again before sending the message to your subscribers.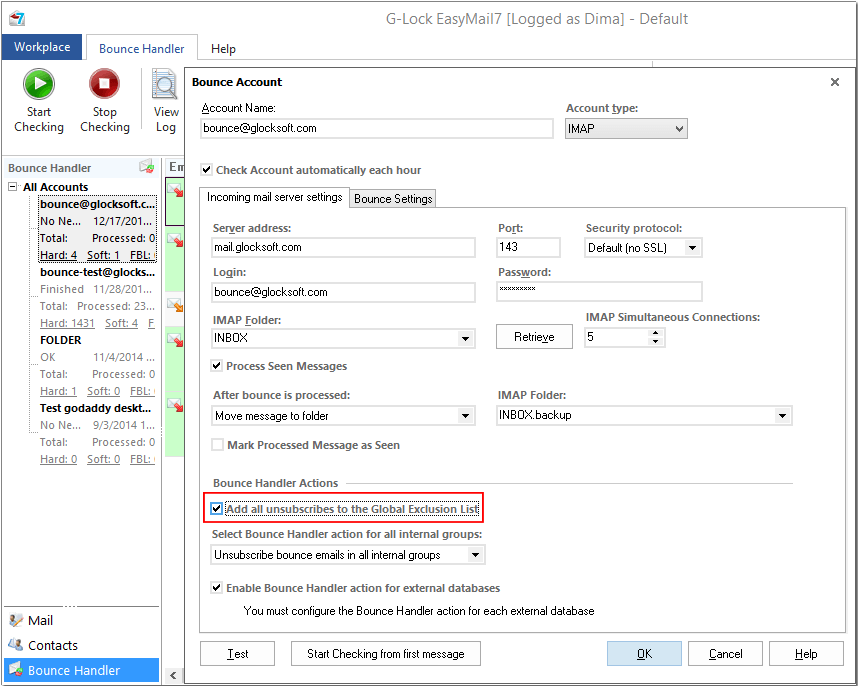 11. Not working tracking.
Email tracking is really helpful in understanding how your leads like or do not like your emails. So, if you are using email tracking system, for example, G-Lock Analytics, make sure that the tracking process is working smoothly.
How to Test Your Email in Real Time
Want to know the best part?
You can quickly test your email quality and deliverability with GlockApps.
Within minutes, GlockApps will show you a delivery report where you will see whether your email is delivered to Inbox or Spam folder with different ISPs.
Plus, GlockApps comprehensive test checks your email for:
– risky content;
– authentication problems;
– blacklisting issues.
…and provides feedback for common ISP and corporate filters.
Read through your report and note what score you received for each spam filter. If a spam filter did not pass we'll explain what's causing the issue so that you can address it as soon as possible and deliver your future emails to the recipients' Inboxes.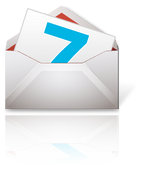 Try EasyMail7 for Free Today!
Turn any email provider into a growth marketing platform.
Don't put your profits in the hands of a third party, be in control of your email — OWN YOUR DATA, OWN YOUR AUTORESPONDERS, CONTROL YOUR INBOX DELIVERY, REPUTATION, DELIVERY SPEED and manage delivery inhouse or outsource to multiple providers.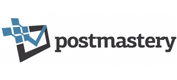 Get into more inboxes
Test email delivery with several ESPs, route the emails by ISP and optimize deliverability
Reduce costs
Send Emails via Amazon SES or In-House SMTPs.
Optimize ROI
Optimize your email operation by cutting costs and increasing customer engagement.
---
Popular Articles
Tags: EasyMail7, email tracking, test email, test email template, unsubscribe link